Andalusia, Corsica, Sardinia, Côte d'Azur, Amalfi Coast, Sicily, Valencia – these have been the past destinations of our spring cycling week. Group of 10 friends open the season somewhere warm with a self organised trip.
The destination has to be warm enough and mountainous. This time it was going to be just three of us and we decided to go off the beaten track – the Atlas Mountains in Morocco.
We knew for the fact that they were high. Peaks are 4200+ metres, passes higher than 2000. We also figured as it is next to the Sahara it should be pretty warm in March. The things we hesitated about:
what's the condition of the roads? is there even tarmac?
traffic culture – do the cars care for cyclists on the road?
We took our chances.
When looking at car rental prices, an idea formed of doing a 4-day round tour across the atlas and back. We studied the map to work out it is 560km on the shortest possible route and goes across 2000+ passes twice.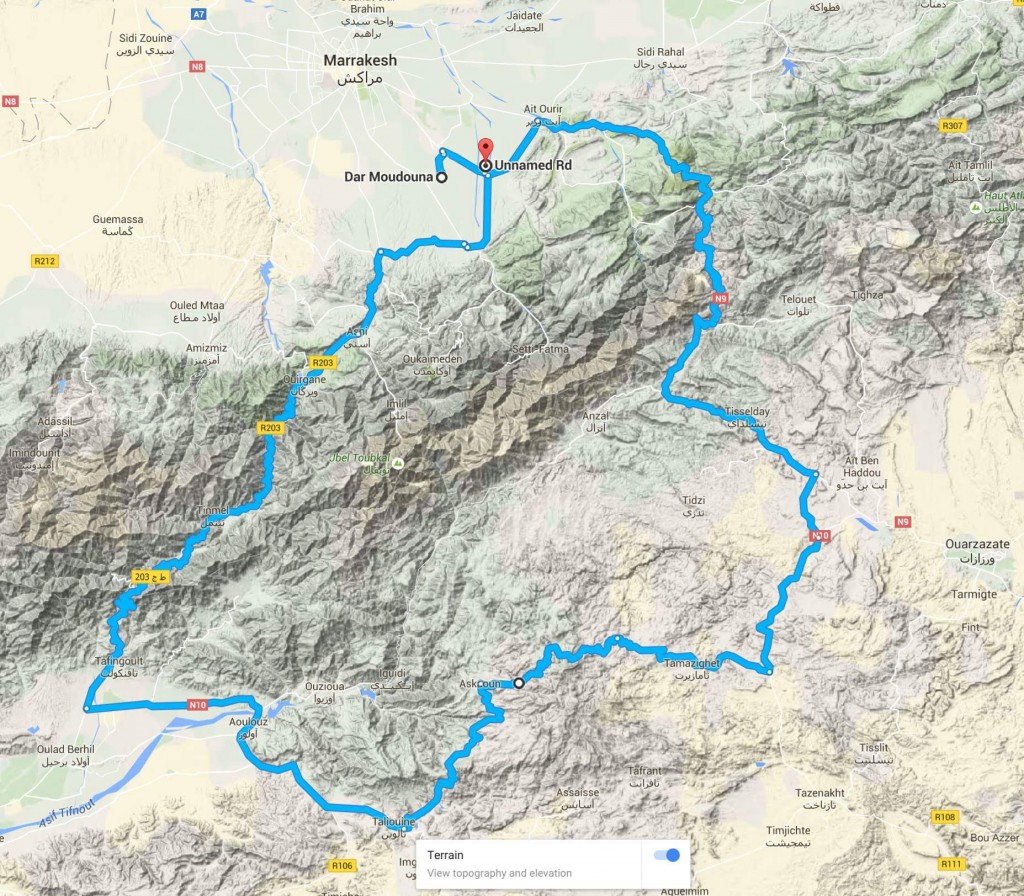 We had cycled point-to-point before, but then had a van to carry our belongings along. This time it will be different
Prep ride: scenic loop to 1850m
95km, 2200m (strava)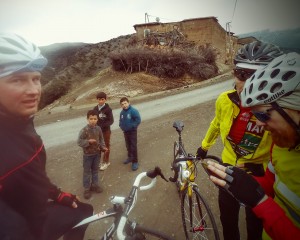 We rode out to Ourika, turned right before the mountains towards Tahnout. Then made a wrong turn and headed north into the mountains. We specifically intended to avoid any climbing on the first day – but now the map allured us with a nice "shortcut" through the mountains back to Ourika. We went for it.
This was a tiny road on the map. but it ended up being tarmac all the way up. Once we hit around 1700m it started to get snowy and once on the pass then last nights heavy snowfall was everywhere around us.
The windchill almost froze the fingers to the brake levers when dropping down from the top. It was a chilly overcast day, but regardless of the temperature it was a great ride. We saw less than ten cars on the climb, got busier when decending on the Oikumeiden-Ourika road. Definitely a recommended route for cyclists stationed in Marrakech.
Stage 1: Tizin Tichka pass 2260m
145km, 4047m (strava)
We packed everything we thought we might need in the next four days into our saddle bags. I had been brainwashed into getting a £92 Apidura wedge that is tied under your saddle and doubles as a mudguard.
My spare clothes, tubes and tools weighed around 5kg in the bag. The first impression was that it puts a lot of weight behind the wheel so the first wheel is very light, it feels very different when walking with the bike. Surprisingly I didn't feel any difference when riding, although there is some left-right swing going on.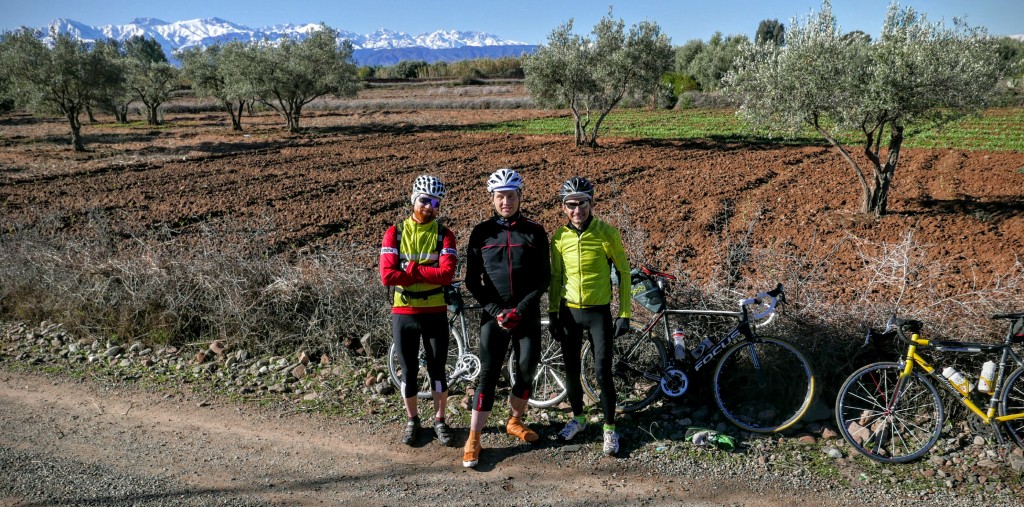 Our first hotel outside of Marrakech was 30km from the city and 6km from the nearest tarmac road. Good opportunity to get some practice on the cobbles ahead of the Paris-Roubaix in a few weeks. We had put wider tyres on in anticipation of poor roads and this was smart. 27c to 30c much recommended for Morocco if you can fit them between calipers.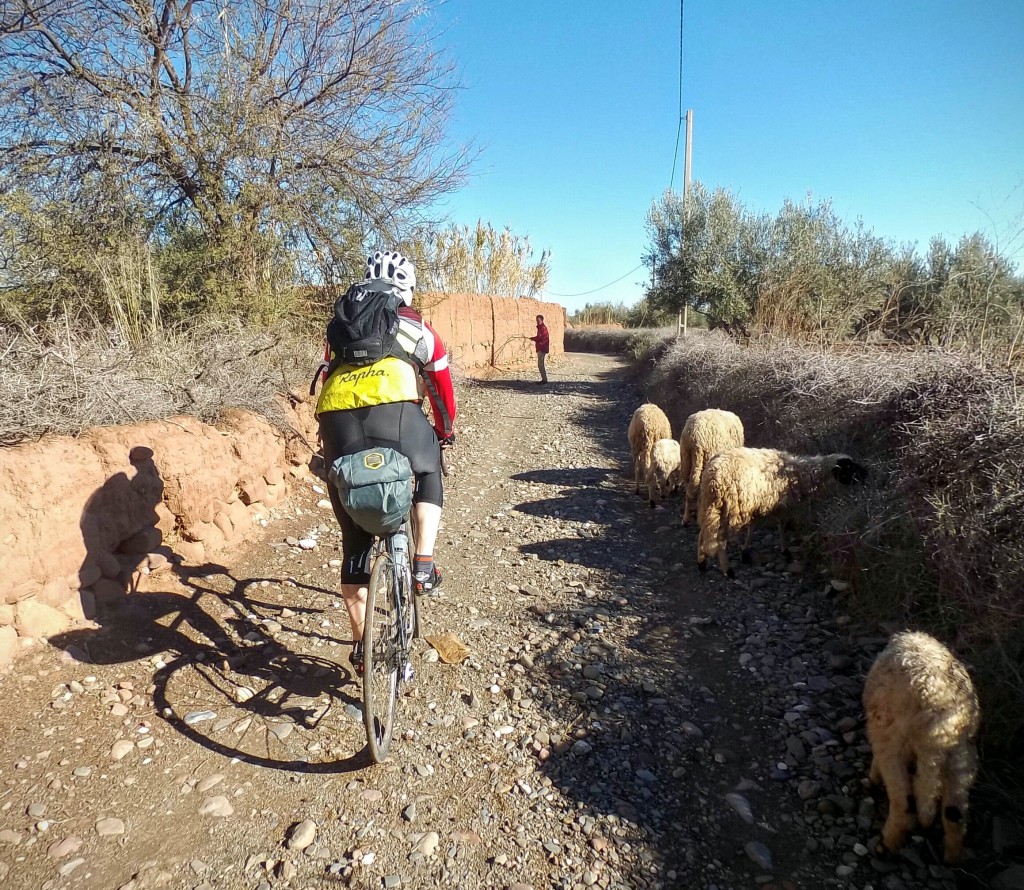 The pass is exactly 100km from our starting point via N9. The closest hotel on the other side was in Tisselday – 145 km away. "Is it too far, can we make it in daylight?"
The road was going slightly uphill until we reached Touchli at 1000m, from there on it started climbing 7% average gradient to the first pass at 1500m. The decent back to 1250m was at the same time fun and regrettable. Every metre you whizz down, you know that you'll have to climb up again. The road then follows the river zigzagging up at a mild ascent to the village of Taddert at 1600m. A great stop for tea and a quick tajine.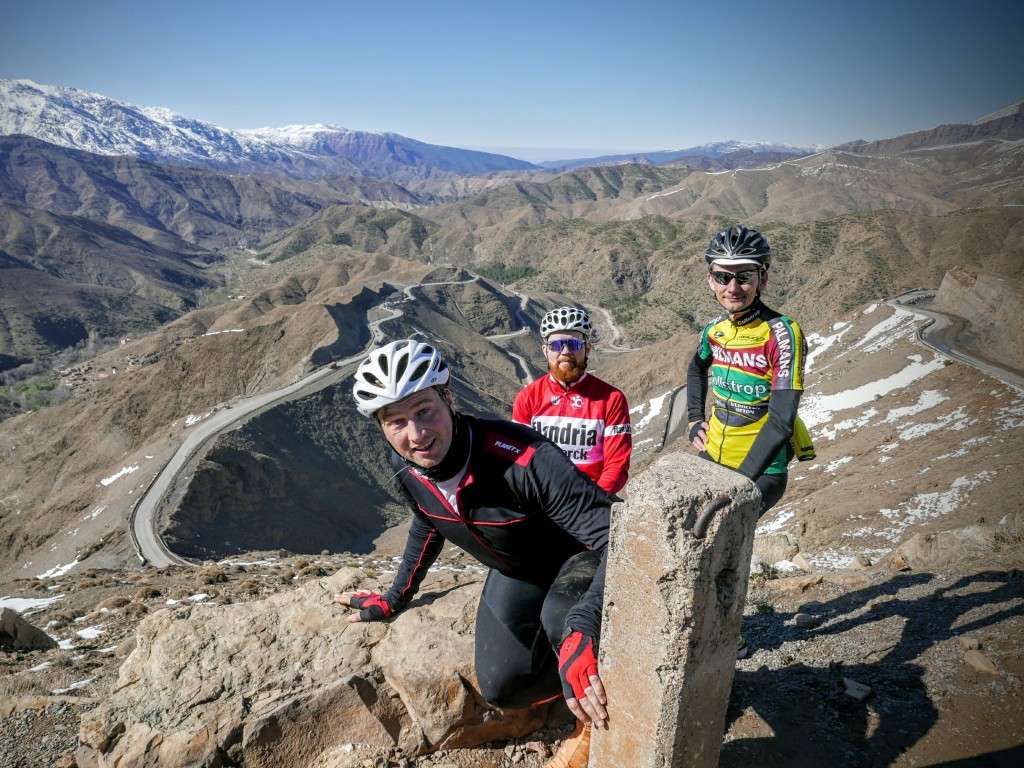 The host at our hotel suggested that you can get to Taddert easily, but from there on you may need transport. Of course we pushed on without hesitating. It got a bit steeper and they were reconstructing the road, but the gradient wasn't more than 8-9% and was quite tolerable. By late 2016 there should be fresh tarmac up to the pass.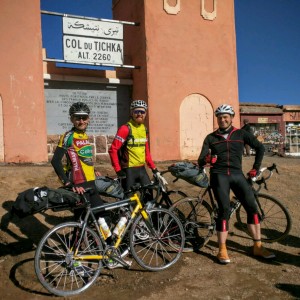 The tarmac down from Tizin Tichka pass was OK, but poor quality, cracked up and gave a strong vibration to hands and bum. The greenish grey mountain sides of the north were replaced with red stone south of the pass, reflecting the setting sun. Don't know if there are many roads where you can drop for 100km steady, but Tichka to Ourzazate is one. We only dropped 50km and stopped at Tisselday for the night.
The road we followed was the national highway N9 and the main road connecting Ourzazate with the rest of the country. It wasn't too busy, a few overloaded trucks, a fleet of sand covered Renaults returning from a Clio rally, lots of tourist packed landcruisers. Drivers were polite, not as great as France but better than UK for sure.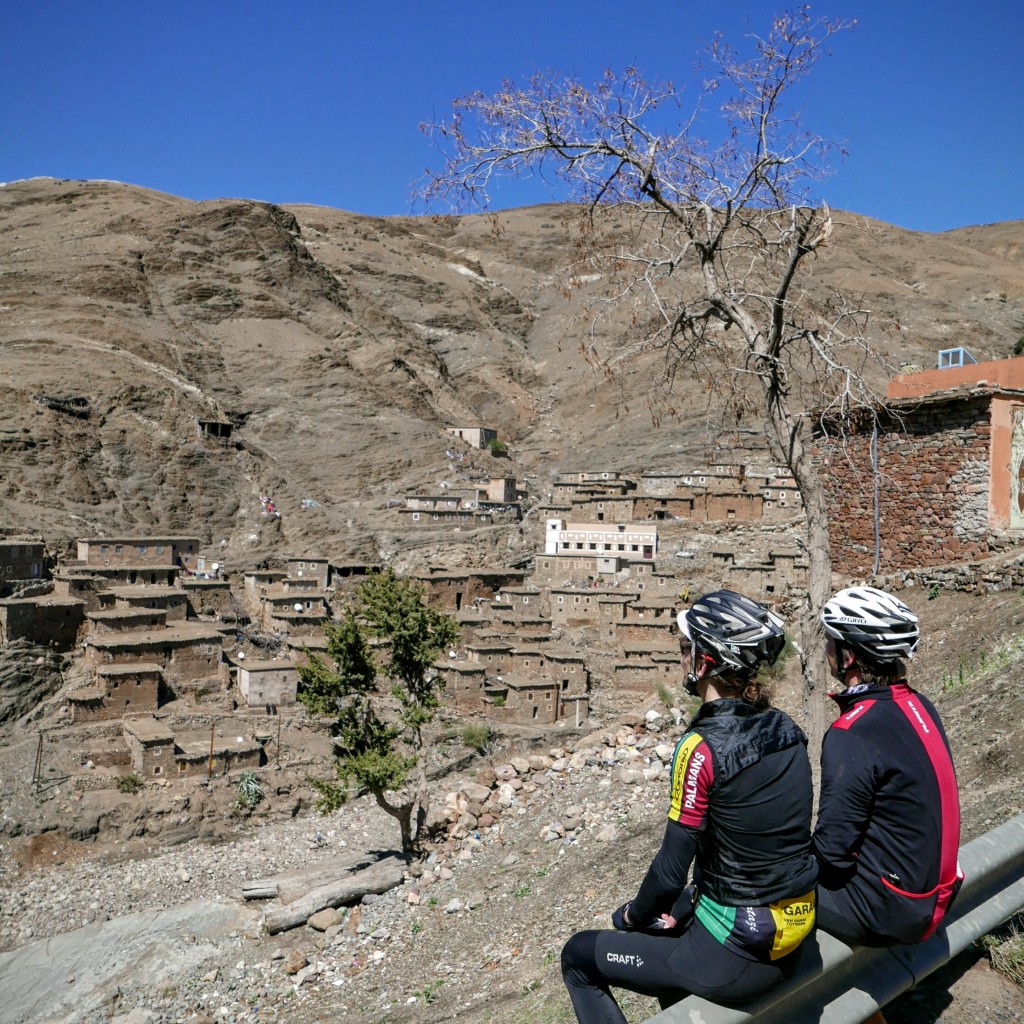 Stage 1 done, three to go. Something tells us it is going to get even harder. Stages 2 to 4 covered in a continuation post.