In 2008 October we rode out of London with Suusi and Kotilda and reached Bamako, Mali 6 weeks later. After a longer break, we continued this journey in 2015 from Lagos, Nigeria and have been wandering Africa for a month every year. We first reached Gabon via Cameroon, then next year Namibia via Congo and Angola. Last year we crossed from the Atlantic to Indian Ocean via Botswana, Zambia, Malawi and parked in Dar Es Salaam.
What's in these bags? Tyres, motorcycle tyres.
Show me! He looks into the brand new Pirelly MT 21's.
You will need to pay tax for these. Me: no!
Are you a resident in Tanzania? Yes (lying).
The bikes are with Tanzania registration number? No, they're Estonian.
Okay you can go.
32 degrees. Juka asked already during the stopover in Addis Abbaba airport if I recognised the smell of Africa? I ask what smell he means. He suggested something of a bouquet of blossoming plants and a decomposing animal corpse on the roadside.
We took a cold bottle of pepsi and sat on the kerb at the airport until the taxi hustlers gave up and no-one else took interest in us. Then we ordered an Uber. The Uber driver's first, second and third questions were: is your name Kristo? And then he didn't stop laughing for 5 minutes. That was a nice icebreaker – I asked what's the problem, is it a girl's name in Tanzania. He says no, just that Kristo means Jesus in Swahili.
Later we go looking for fundi Kane – the mechanic, who was supposedly working on getting our bikes restarted. We finally see a rack of bikes on a dusty street with Suusi there too spanking clean. Kane brings the key and Suusi starts right away – the fundi glows with pride. I ask, is this your workshop – he says yes, around here – pointing at the general area around where we were standing. The fixing of the bikes takes place on a sandy street.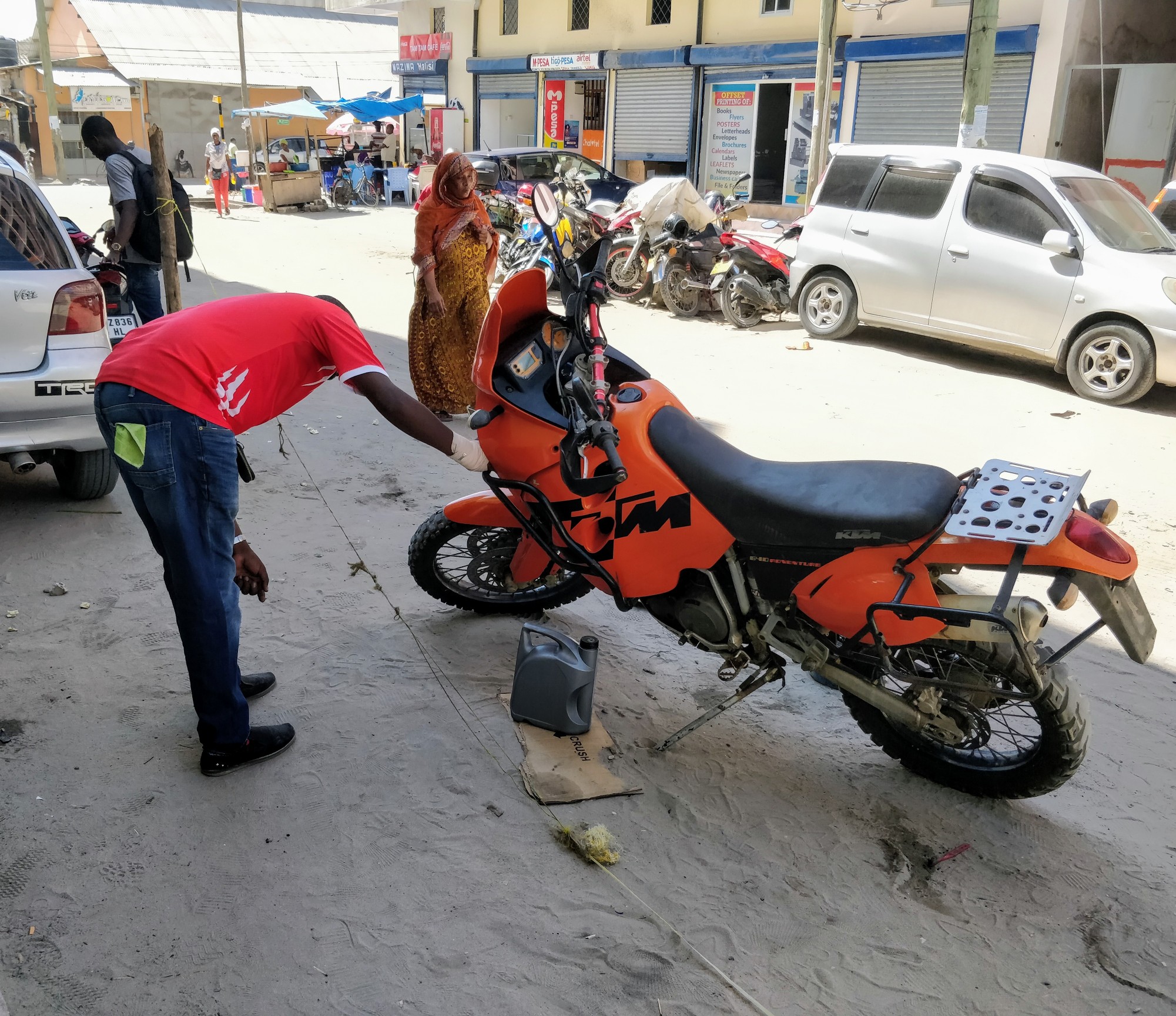 Later there is another older guy sitting at Kane's streetcorner and he speaks good English. Asks me where we come from, I explain from the south, Namibia – but before that from Europe. He then tells me he has a Ducati and him and his friend had once rode up to South Sudan. He says there wasn't much there and now it is a bit scary. I tell him, we're considering going to North Sudan after Ethiopia and asked if this is any better – he scoffs: "of course, that's where it all started". Referring to the modern civilisation ofc.
This is stage 5 and whether we're lucky or we're getting better organised, this time we got both bikes fixed and ready to go in 48 hours from landing. The story of Dar started in Zambia last Christmas. We were sitting in a roadside shed, getting ready to eat some fried maggots. Then a large KTM blasts by, notices our bikes on the roadside and turns around. We met Ali and later his friend Grace joined on a smaller bike. They were from Kenya on the road to Namibia. When hearing we're going to Dar, they said: "You gotta meet Hussain, he knows everyone in Dar." Of course we called up Hussain when we arrived, he called his friend who was willing to hold our bikes on his plot for a year and now he gave the number of Kane, the mechanic – who started a week before our arrival. He took the bikes from the plot, cleaned the carbs, fixed some things that had fallen off or stopped working. This time we got as far as Kotilda starting from the push of the button. That good electric start stopped working in Mauritania and I had been kickstarting across the rest of Africa.
The jam jam in big African cities is nuts. With our loaded bikes we manage to skip through in a couple of hours, I don't envy people trying this in a car, it must take 5-6 hours as the traffic is standing for 25 kilometers. Then after 200km of tarmac to the north we turn onto a dust road towards the ocean and another 100km of ruts in the sand road makes Kotilda feel completely home again.
We reach the ocean, turn into the Kipumbwi village, I follow Juka on a path to a house in the back where African beats are coming through an open window. We go inside and hear – "Mr Juka! Welcome home mr Juka!" We have arrived at Issa's house. Juka met Issa in January, when he stayed here alone for another month. He had picked him up on the road and gave him a lift. He ended up staying a week at his house with him and his newlywed wife. We put on the tea and stories unfold.
[If you don't want to spend the next 15 minutes reading what happened in Kipumbwi, you can see the summary in a 5 minute video.]
Issa speaks very good English. For 15 years he worked in Zanzibar in a hotel, just across the strait from the beach. The owner of the hotel passed away and now he is back in his village, getting married and settling in. His wife is not home, he is 8 months expecting having a "baby rest" in another village 20km away. Issa is home alone, not doing much. He shows us the house he is building by the sea – it is half finished, doesn't have a roof yet, but decent walls up. According to Juka it only had a basement in January, when he was here.
Our bikes are currently in Tanzania illegally. When we entered in January from Malawi, we got a Temporary Import Permit (TIP), which allowes us to keep the bikes for 3 months. During that we either needed to exit or pay import the bikes and pay customs duties. Of course now this TIP is 9 months overdue. In Dar we went to see a customs official and ended up handwriting a letter to the Customs Commissioner, asking to waive the penalty, which would be 20% of value of the bikes as new. Now we're waiting for the response. If we get stopped on the road they might confiscate the bikes and the same would happen if we attempted to cross the border. So we stay with Issa in Kipumbwi.
We visit his dad, who goes out fishing every morning and often takes some small sharks home as part of the catch. In the afternoon he collects cashews on his farm. His dad's grandfarther was a slave to the Germans, but managed to escape. Him and his friend founded the village. The place is just opposite Zanzibar, boats with people and merchandise go every day. It is a 3 hour sail with good wind. Most of the fruit and food for Zanzibar comes from the villages on the coast. Boat making and boat owning is a big business in Kipumbwi, boys grown up and dream owning a boat. "With a boat like this, " Issa points to one of the 7 boats being currently crafted on the beach, "you will be a rich man. You make 100 000 ($400) every day. Money every single day." The boats sail out 30 miles in the evening, Fish in the night with the ringnet and are back in the village by sunrise. The buyers will be waiting on the beach, coming from 300km radius, some as far as Arusha in the Kilimanjaro area.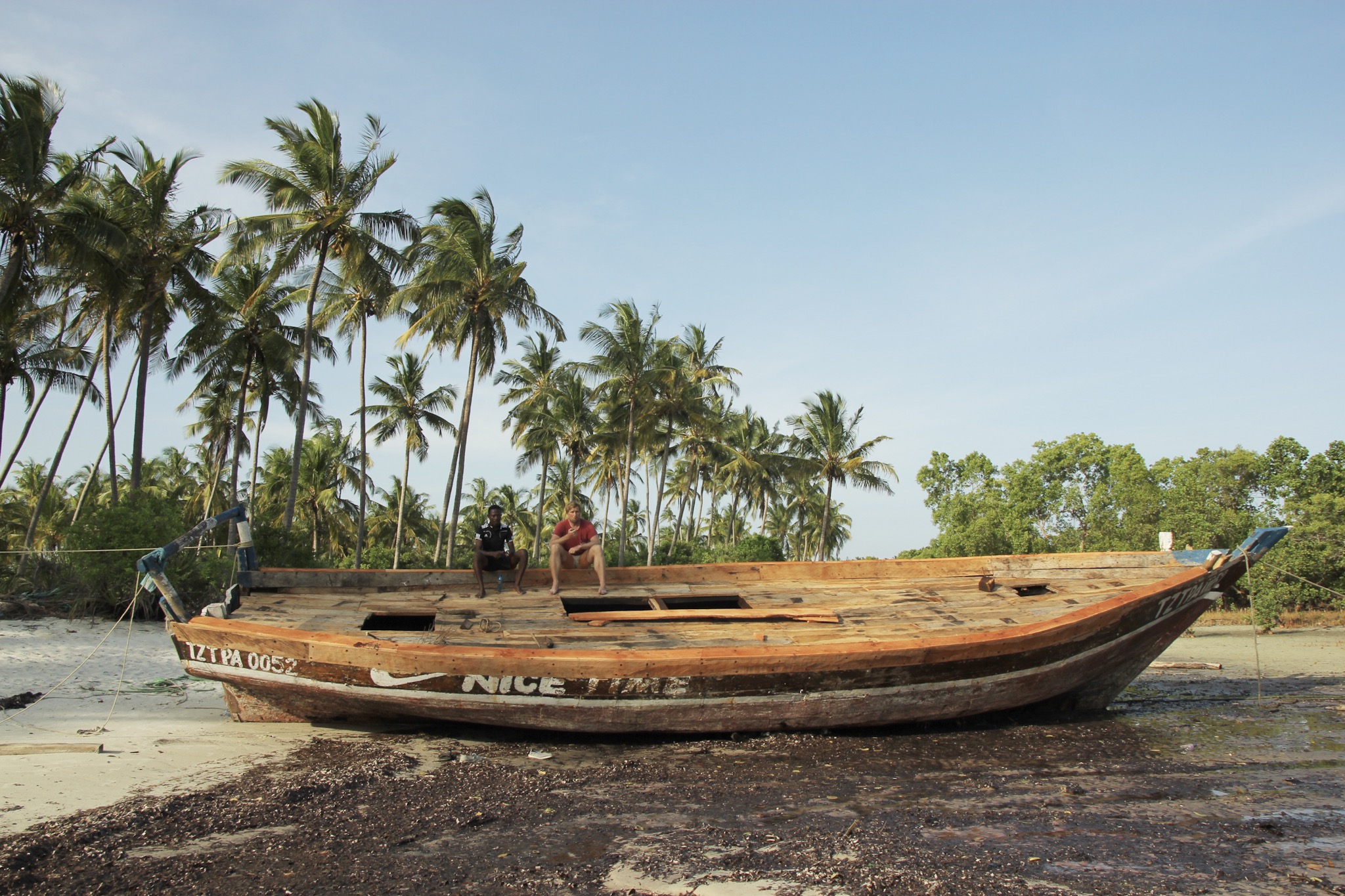 Next day we get up early, get a chunk of cow meat and head out to catch crabs. We head out from the beach just in front of Issa's new house. The tide is almost out so there is just a small channel of water going through the mud in the mangrove forest. We follow the channel for half a mile and reach a small bay surrounded by mangrove. We walk through the bay as the water is just above the hip. The flow of tide is strong, if the water was another 10 cm higher it would be impossible for shorter folks (Juka) to keep the feet on the floor.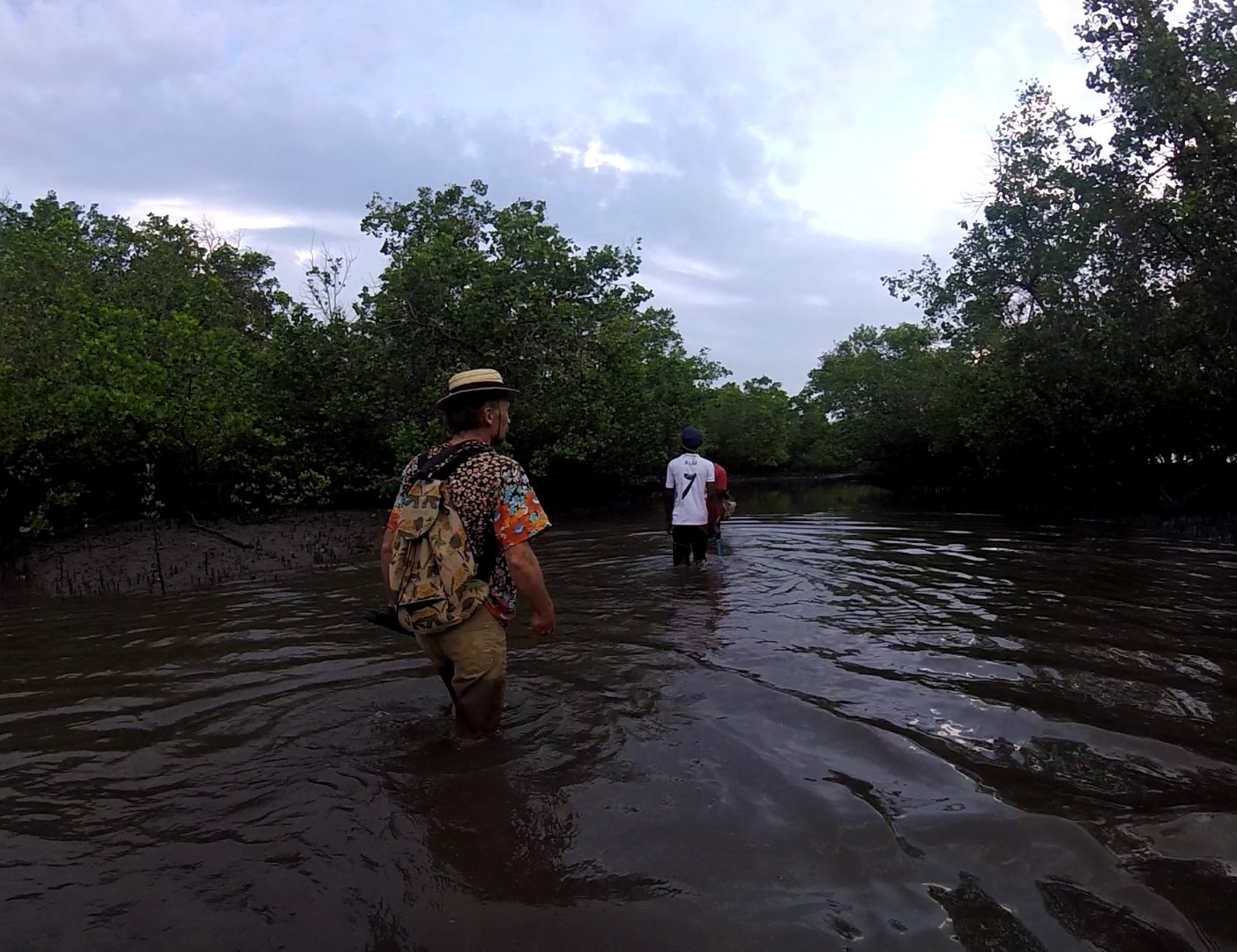 Soon we arrive on the other shore and the crabbing starts. Issa's friend has brought a few fishing lines rolled on a piece of stick with a fist sice rock tied to one end together with a spare noose for meat. The technique is super simple. You throw the line with the meat and rock in, wait for the crab to come nibbling. Then slowly pull the line up, place the hand net underneath and you'll have a crab. The tricky part is tying the crab down with palm leaf. Get your fingers too close and you have one less. An hour later we come back with 9 crabs.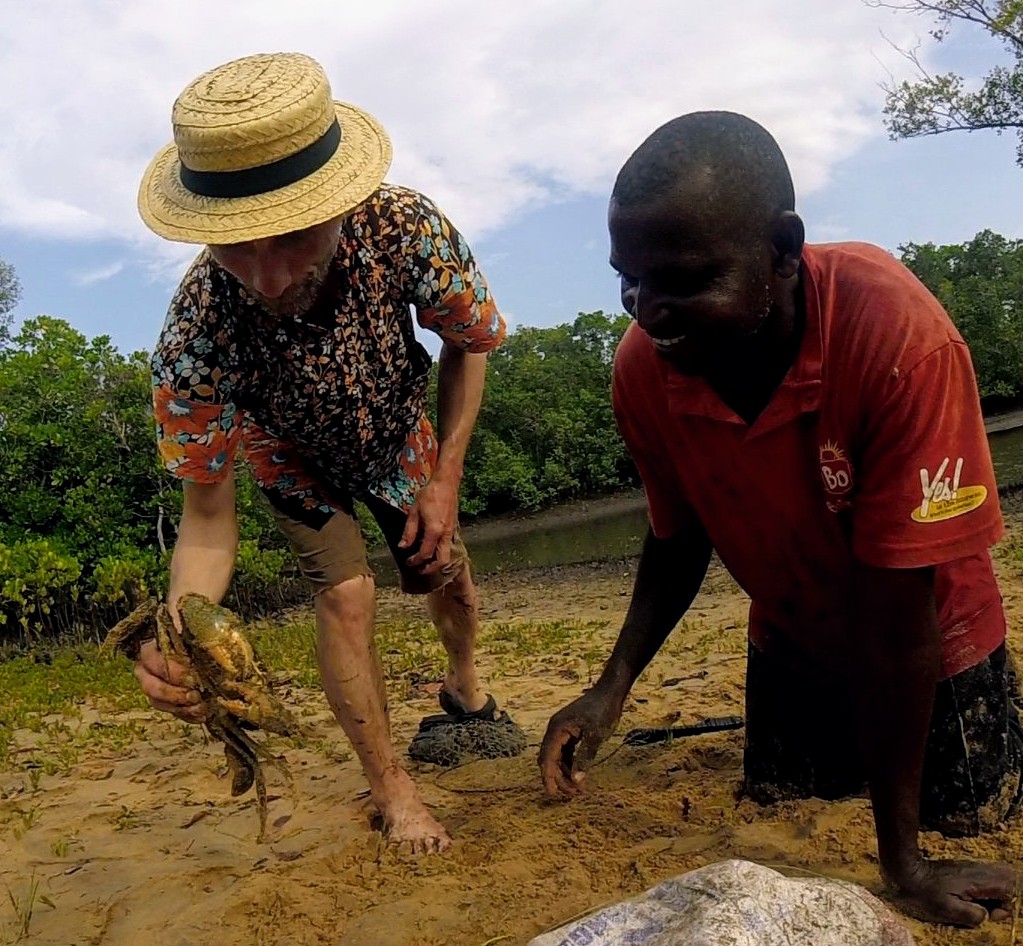 Issa speaks English really well, which is unusual in Tanzania. He went to Zanzibar when he was 14 and started working at the resort there. He says he can make 200 cocktails now. From the money he earns in the resort during the high season he can live like a king in his village, build a villa on the beach and start a family. The latter turned out to need much more budget. His wife is having a difficult first pregnancy, he says he has spent more than 3m TZS ($1200) on doctors and hospitals and at this point he was as broke as it gets. Everything else is on hold until the baby is successfully delivered. As we're stuck in Kipumbwi, waiting for the Commissioner to give our bikes a TIP extension, we figured we should make ourselves useful. We propose to put the roof on his oceanside villa.
In the next 4 days something miraculous is happening. Mzungu (white people) are building a house in Kipumbwi. Issa explains that the people in the village have never ever seen white people (mzungu in swahili) ever work. The local saying goes: "One day mzungu will make their own people". I asked for explanation. The refernce was to playing god, the whites never do anything for themselves – they always have servants and tools that do things. One day they will make their own people, like god did. But now unexpectedly, they're going to smaller town 30km away to bring the sheets. Issa organised some 2×2 inch coconut timber, borrows 3 tools – a saw, a hammer and a machete. Work begins. Our intent was certainly a bit more grandiose than our ability – last time I assisted building a roof was 25 years ago and for Juka maybe 18 years ago. The roof structure was already there, we only had to add the surface to hold the sheets. The roof structure was made from branches, thick as my thumb. But they were no ordinary branches, it was mangrove tree – locally known as "simba timber" or lion timber. On this branch we could easily stand with a three of us and it wouldn't even bend.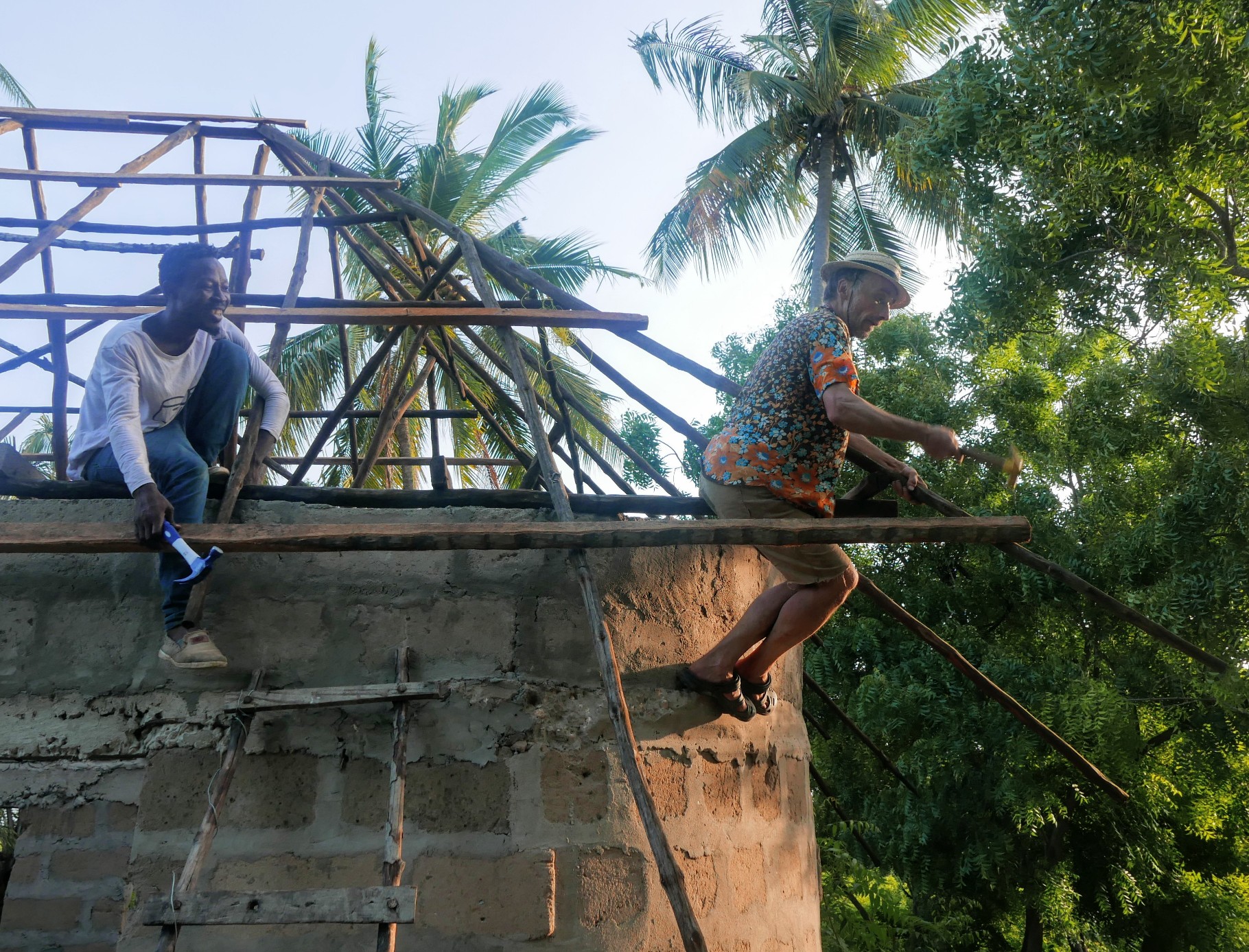 By day three of building the roof it felt like we had always lived in this village. At sunrise we make tea, eat Issa's mom's pancakes, mangos, jackfruit, avocado or whatever else the villagers have brought us. Then we go on the roof and start nailing down timber, cutting the sheets, nailing the sheets, sweating like pigs in the equatorial heat until the sun goes down. Then we leap through the village back to Issas house, dead tired. I had flashbacks from my childhood, when I spent long summer days at my grandparents living in a small town of Sindi. By the end of day 3 it looks like we coulf complete about 85% of the roof with the material that we had, but if we wanted to do the corners and the finishing properly, it would take us another 3-4 days. We tell Issa that we do another day of building, take a rest day and then continue our journey.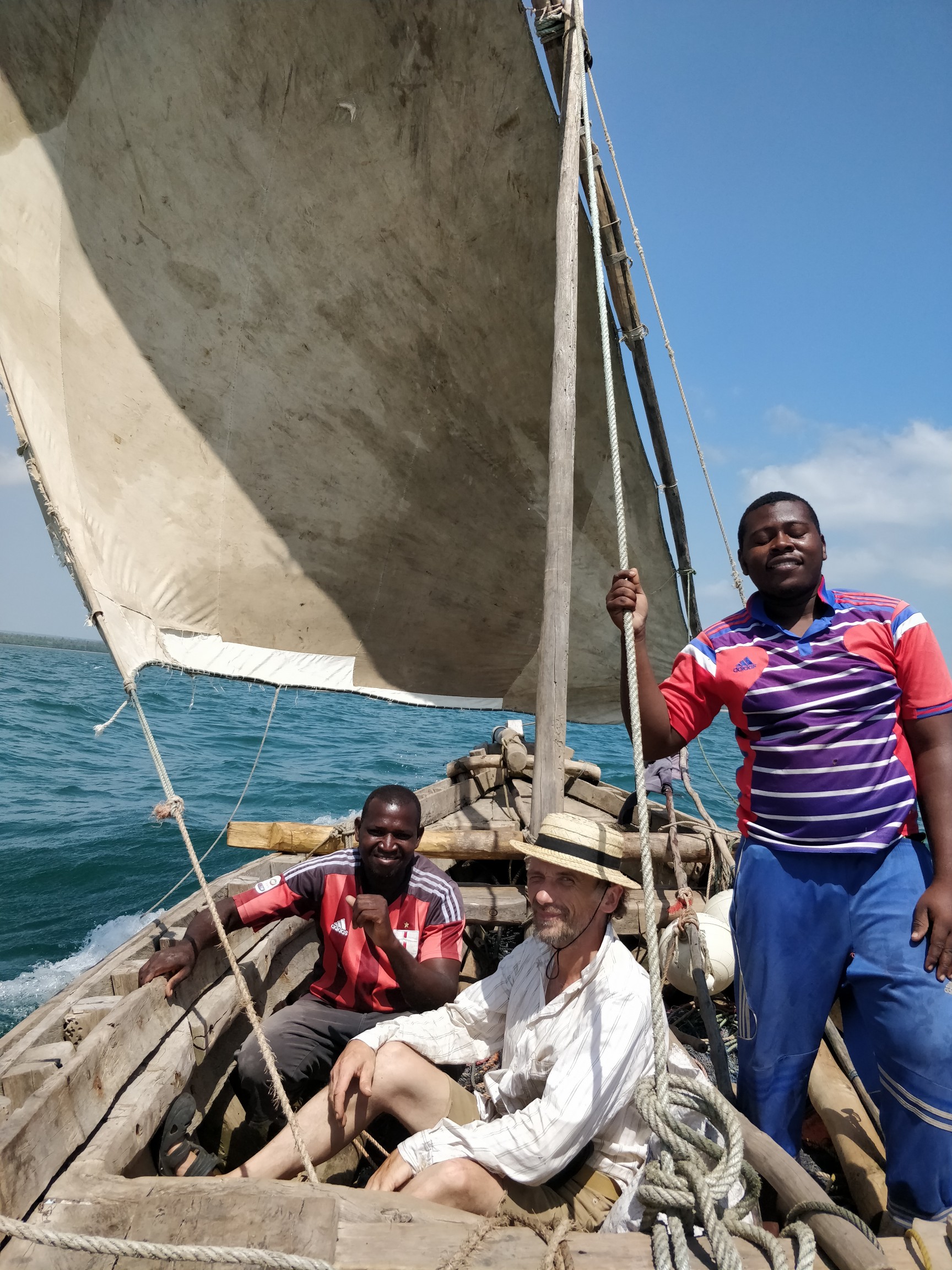 The rest day is for fishing. Issa has borrowed a 13 foot boat for $4. We push off, hoist the sail and head to the ocean. This hand made vessel had only one sail, which was tied to the bow from one corner if you wanted to saill upwind, but easily converted to a spinnaker to go downwind. And it went fast like the modern sailing boats. The swahili coast has 2 types of wind, three months coming from the north, then nothing, then 3 months from the south. That's how the Arabs originally colonised the coastline. They went south for three months, traded slaves, gold and meat for a few months and then sailed back. Every year. The southern winds stop somewhere south of Dar, so occasionally some boats went a little too far with the northern wind and never got the wind to come back. Once 5 miles out on the sea, we tied a nail to the fishing line for weight, put a prawn on the hook and started hauling in snapper.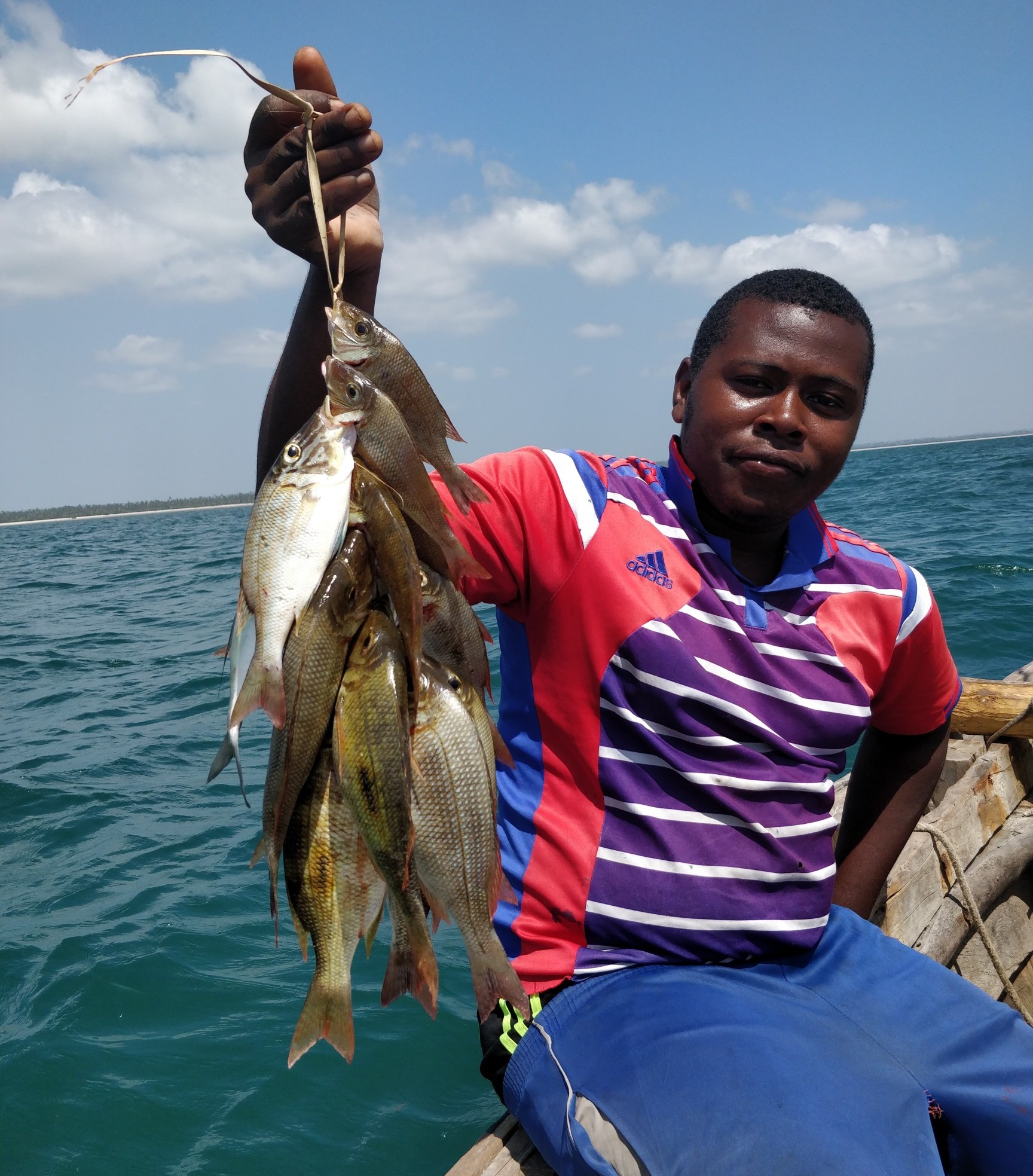 Sadly Juka got immediately seasick after we anchored.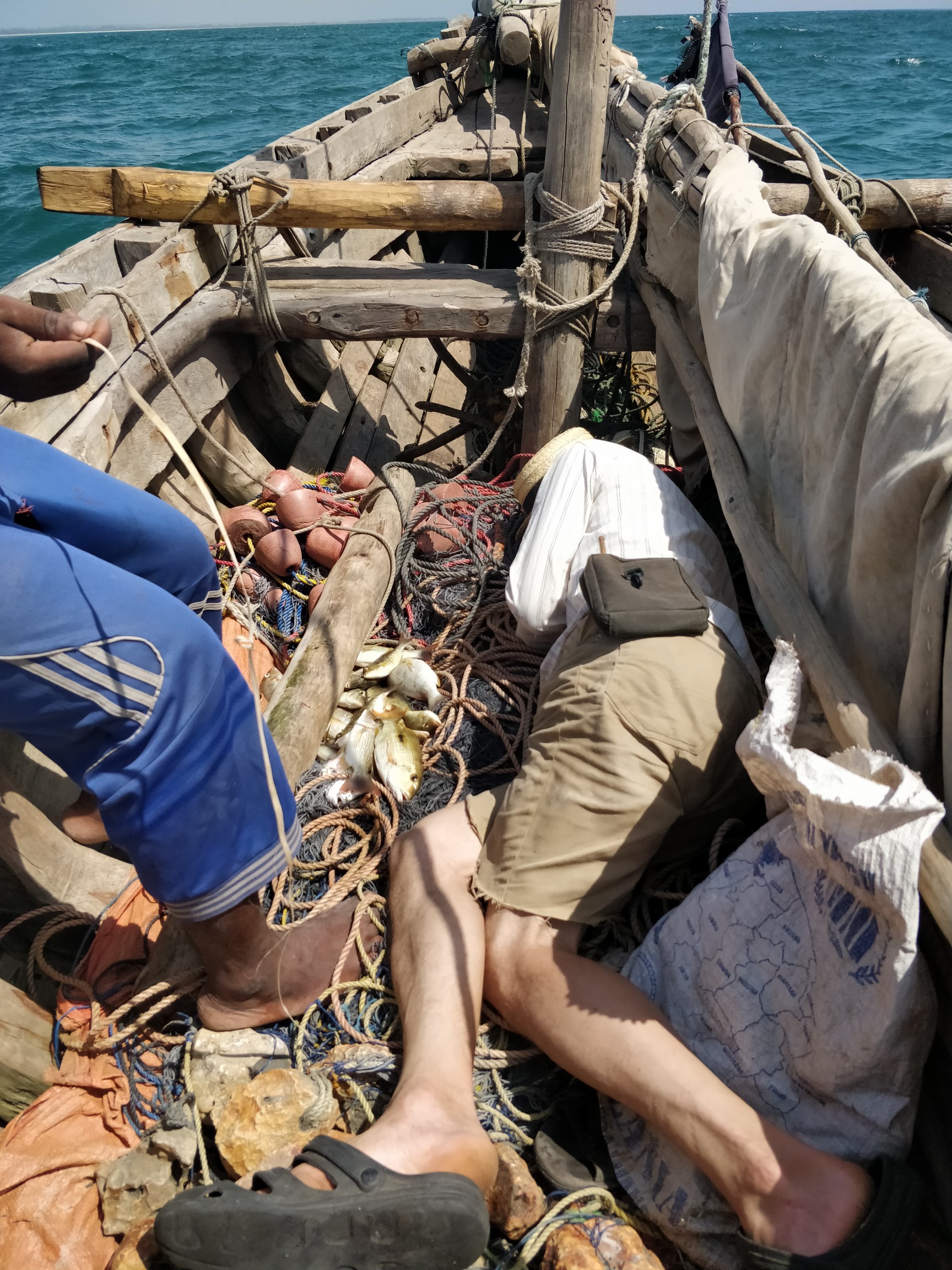 That's why we didn't get any sharks this time.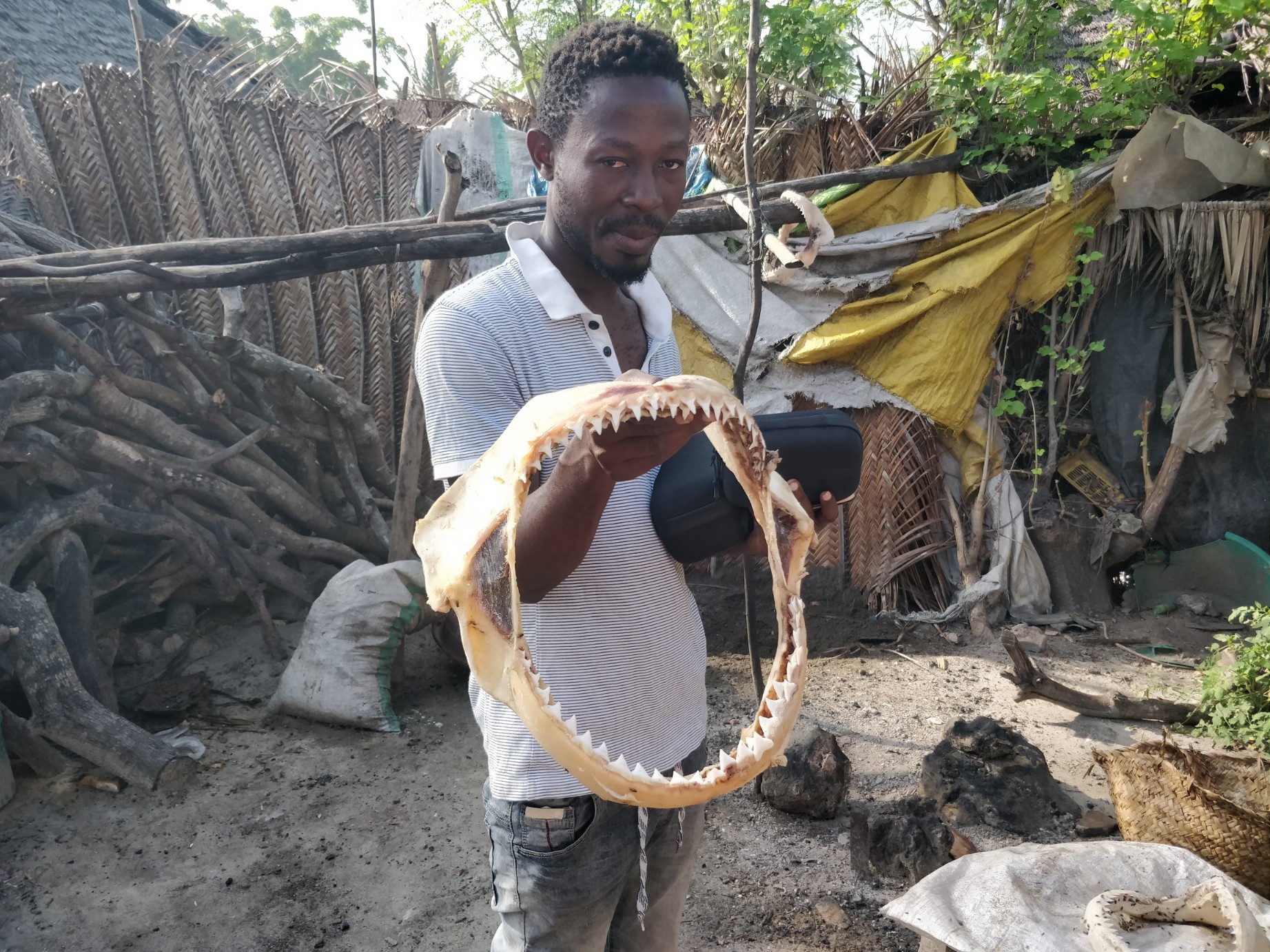 Issa' dad was pretty impressed with our catch, so he offered to give us the frame timber for free, when we start making our own boat. This is how it works. First we'd have to go to a forest 50km away to buy a specific type of tree and cut the keel timber. That's roughly $400 for a 13 foot boat. It dries for a few months and is then put in the tide water, so that it gets seawater for 6 hours and dries for 6 hours. There are dozens of keel timbers on the beach, waiting for buyers to start making their boats. Then we'd go to his dad's farm and look for another specific tree that always curves at some angle. We cut the trees that are already at the suitable curves. No bending needed for the frames. Then we order the planks to cover the frame, buy the nails, cotton and put in 2 weeks of work. Then we'd have a sailing boat. And it will last for 100 years. All in $1500.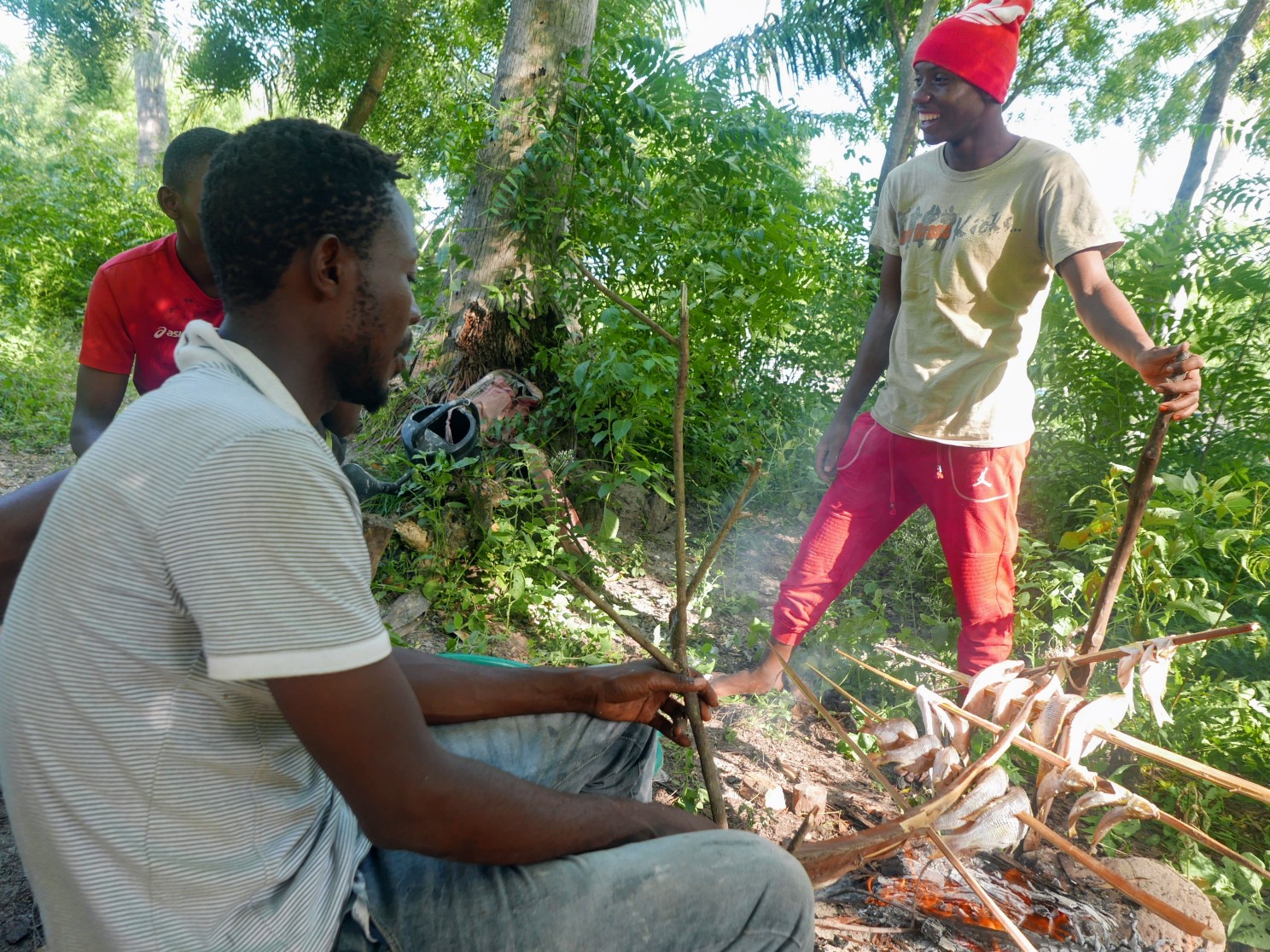 After 9 days in Kipumbwi it is time pack, say good byes and start our journey. We still don't have the extension, although I've been whatsapping with a lady from the customs, no decision has yet been taken on our case. We figured it is better to save time and get close to the Kenya border. We plan to cross in the east, near mount Kilimanjaro.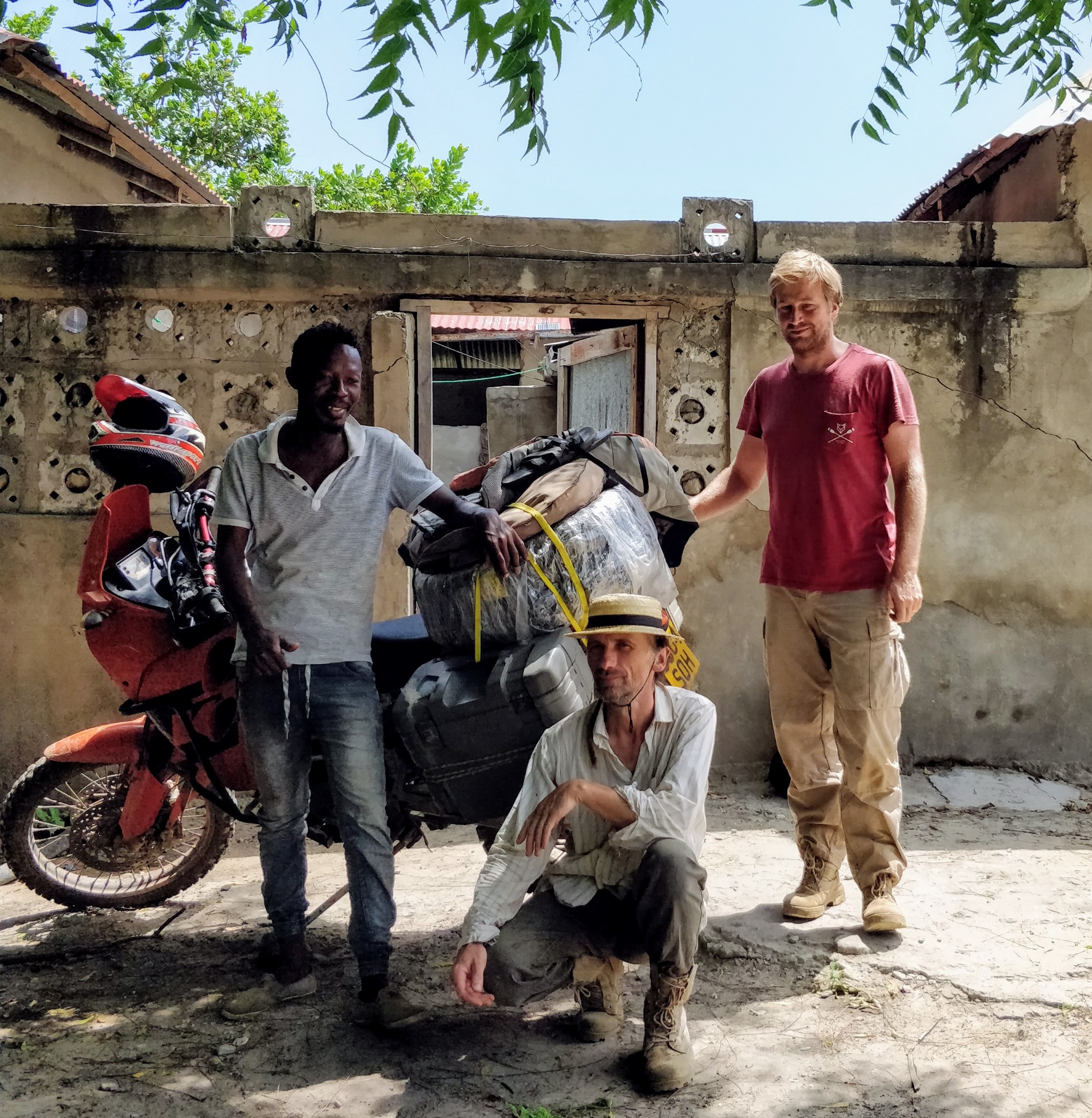 Sadly Kotilda doesn't want to leave. The battery is flat and I can't get her started with kickstart for the love of my life. So we tie her to Suusi and force her by pulling with another bike. She starts and we go. But bad news, now Suusi's clutch is slipping.