The throttle is full open, but she doesn't go beyond 62 mph up the ascending road. I have trouble catching up with Kriss in the VW Polo and Juka ahead of me. This is not the Kotilda usual. When I open the throttle I expect her to roar, but she doesn't.
Kotilda and Suusi had been parked on a farm near Windhuk, Namibia since January this year, since we stopped from the last stage down from Gabon, through Congo and Angola. Our younger brother Jaanus had died tragically only a month and a half ago. I didn't know if we're going to do this year's stage or cancel – until a week ago. We decided to go ahead as planned – albeit not much was planned other than time off and flights. When we parked the bikes on the farm I knew for the fact that I'll forget what's broken. So this time I took a series of pics of everything that needed a spare part.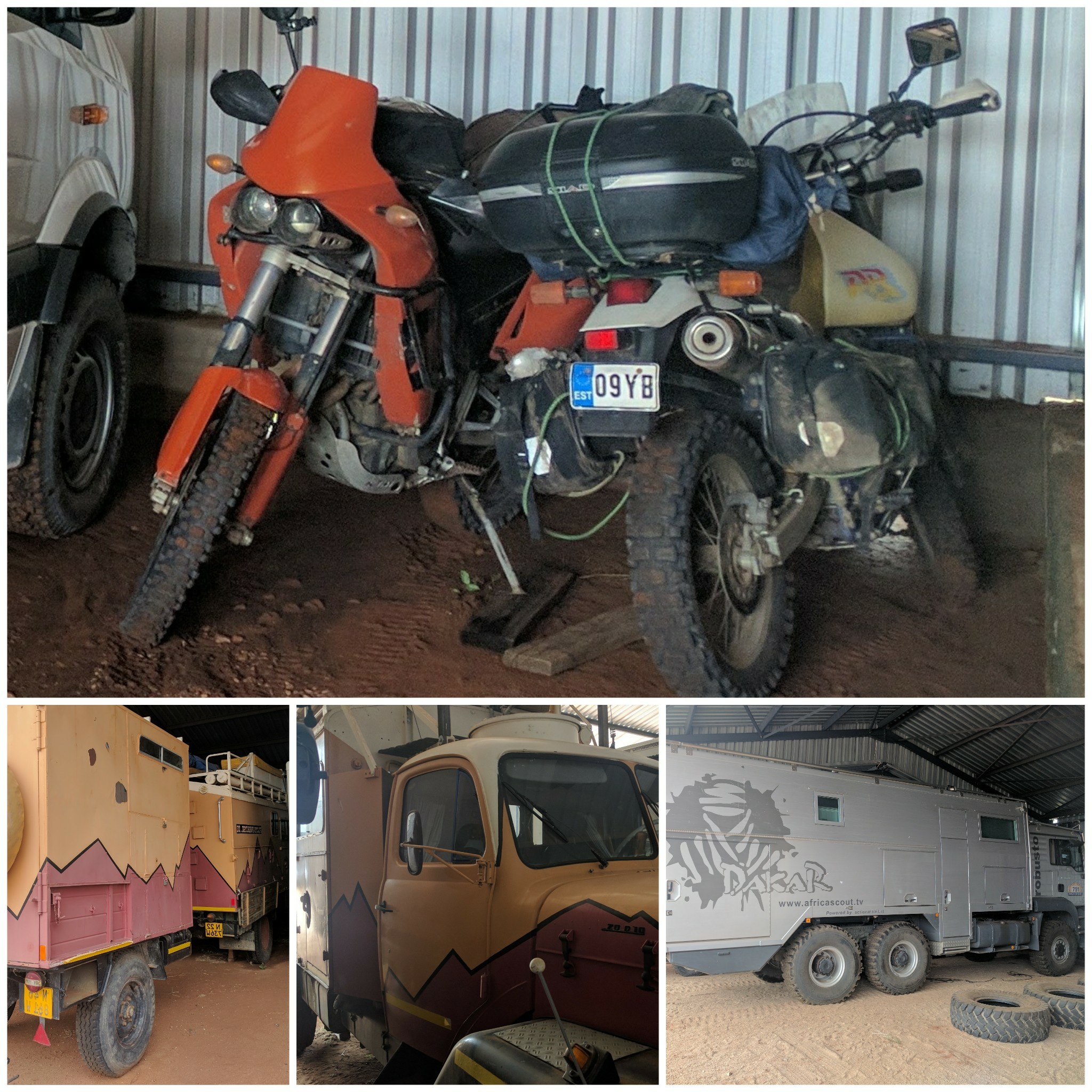 Getting the spares a week earlier was hasty, but the trickiest was finding a workshop in Windhoek that hadn't already closed for Christmas to open in January. Finally, through recommendations I found a guy called Faani, who said he will help us get the bikes going again. When the bikes stand outside for a year, especially in Africa, the petrol in the carburettor turns into kak. I don't know exactly, what kak means in Afrikaans, but this is what Faani shouted at everything and everyone he didn't like. The first thing just to get the bikes going again is to remove and wash carburettors and air filters, then you can fix all the broken bits.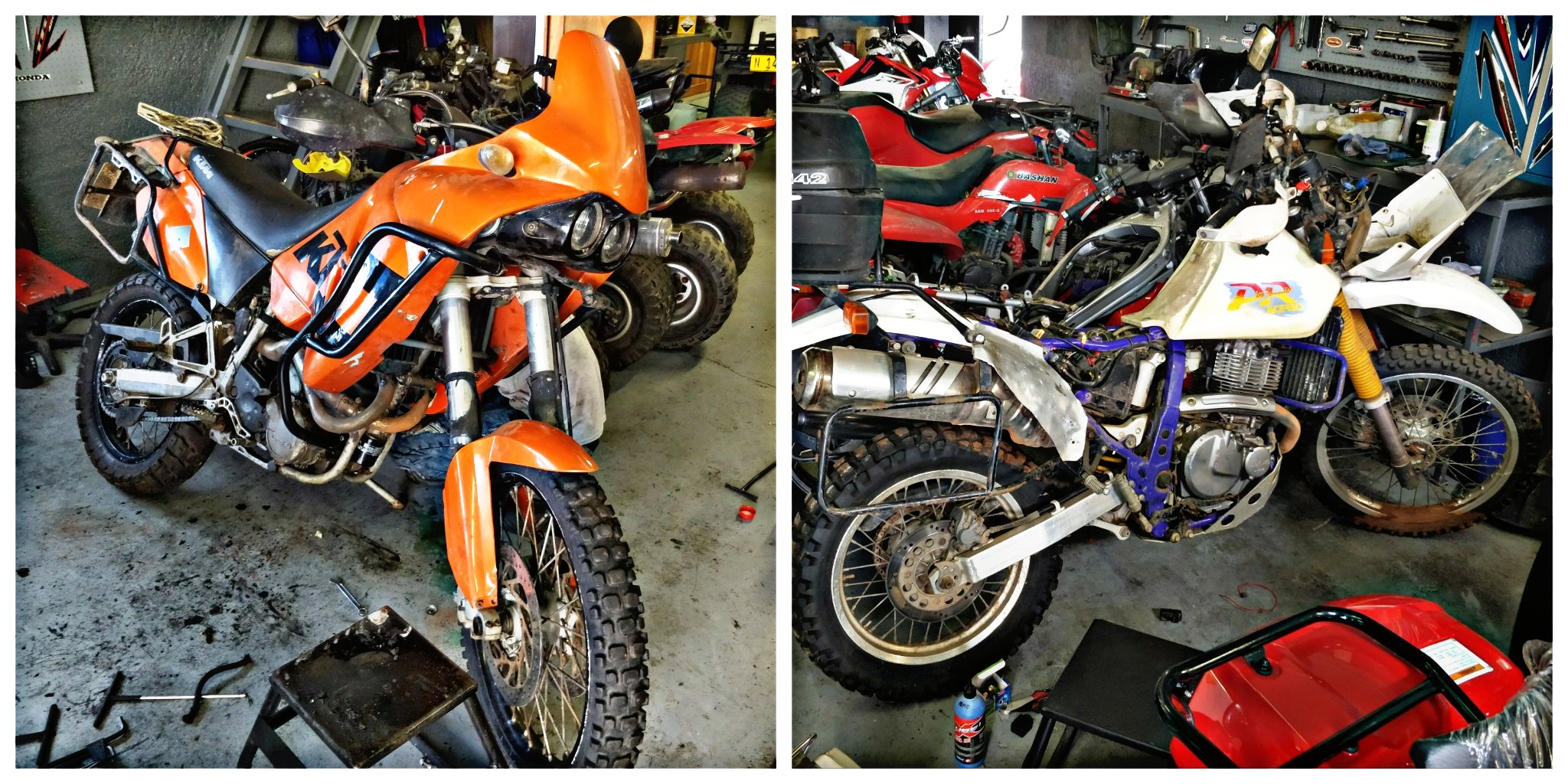 We had lots of luck with Faani and his workshop. We landed on Friday noon and by then he had already picked the bikes up from the farm, gotten them stripped down and working on the carburettors. Their workshop was also running on Saturday, so it looked like we might be ready to ride out Saturday evening. Saturday afternoon most of the work had been done, but they were still stripped down. I offered that I'll put them together myself but it was impossible to argue with Faani after he had had a few Tafel lagers. Sunday, some of the guys will come out on Sunday to finish up and we'll be going mid-day. To make that happen we had to join Faani's and his mechanics for their Christmas bbq – which meant mostly beer. These guys were so far the best mechanics I've met in Africa with attention to detail. They let us off with just 700eur for labour, parts, towing.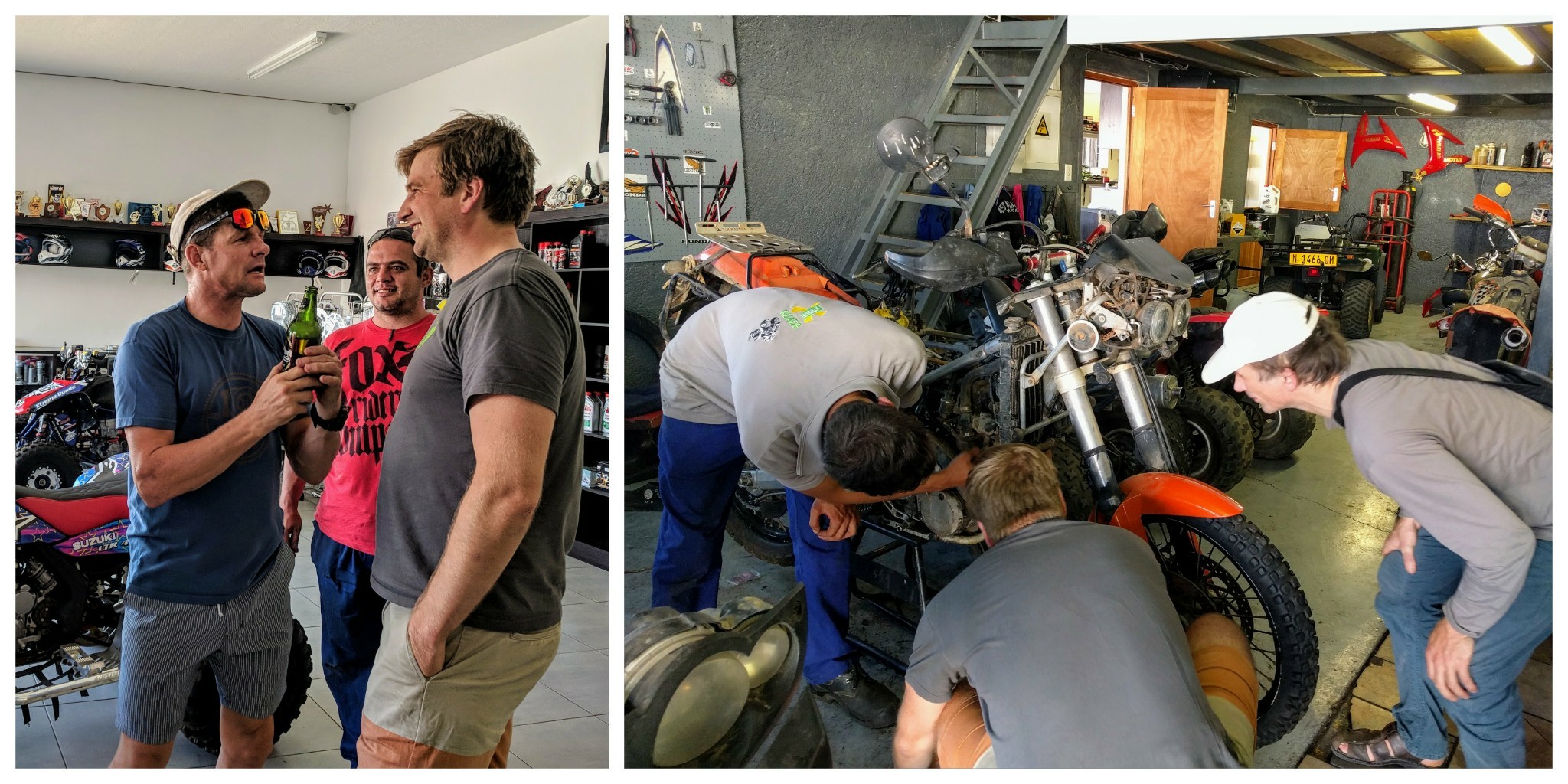 The bikes were running and although it felt like they've lost the torque and power, it didn't warrant going back to Faani's and losing another day or two. Even if we can only go at 60mph, we need to push on. We have about 6 days to get to another capital city, where Kriss can fly out to make it home for Christmas. And there is the Kalahari desert between us and the next airport.
Stage 4 of our Africa tour has started. We're not sure where the trails will take us this time, nor where our next stop is going to be. I just need to be in NYC by the 10th of January for the board meeting and we'll need to find the next parking space for the bikes then. Juka has said, he might stay in Africa solo for a bit longer. Let's see how he thinks about that in January.
Being so late with planning we didn't have time to attempt the South African visa. Actually, I didn't much want to go to SA anyway. It would rather be exciting to cross from the west coast to the east, through Botswana, Zambia and Zimbabwe end up in Mosambique. Perhaps even a detour to Malawi. All these countries have a welcoming visa regime, where we should be able to get one on the border. Long straight road ahead of us to the eastern Namibia border with Botswana, that's where we are heading.
About 60 miles later there is good news – the power has returned to Kotilda. I open the throttle at 65mph and it pulls nicely, even now that we're two up with Kriss and plenty of luggage, Kotilda climbs comfortably to the cruising speed around 90mph. I'm guessing it must have been some kak still left in the carburettor.