It is Wednesday afternoon of 23rd Dec in Lagos and our customs agent is near breakdown on the phone. He has been at the port the whole day trying to get a truck from Apapa to the Tincan island port to pick up the box with the bikes. It is only 5 miles away, but the whole area is blocked by tankers, so in the whole day his truck couldn't make any progress at all. Nigeria produces 3% of the world's oil, but suffers fuel scarcity. It doesn't refine itself – sells the oil to americans and buys back petrol. Of course now that the crude price dropped and petrol in Nigeria is subsidised at €0.40 there is no fuel in the stations and people queue for days if there is a chance of a fill up.
The port has shut down for the day and everyone had gone for holidays to be back on Tuesday. We have all the customs papers finished, but there is nothing at all we can do, noone to lure with gifts to open up the port again.
Nigerian Christmas
We make some tea and buy flights to Abuja for the next day. We met an Estonian dude in Lagos, who flew out a day before to see his friend Argo in Abuja for holidays. 5pm we arrive at Argo's compound in Abuja, who has just finished monsterising someone's truck. He runs Abuja's only bike shop, there is a little showroom with a dozen bikes on sale and a yard full of bikes, quads, jets for fixing. Now all 4 Estonians in Nigeria are together in Abuja and Christmas Eve may begin.
No Description
Taivo is already roasting a pig at a friends house, the owner of the monster truck. Sasha is from neighbouring mother Russia. Live show on russia.tv plays on his veranda. Bulgarian samagon (self distilled vodka) comes from a 5l plastic can. It's already half full and only the bottom left by the time we leave. The soviet bretheren arrives, the consulate of Belarus, a few more ex-Soviets and local bikers. Russian parties are no different in Tallinn, Omsk and in Abuja.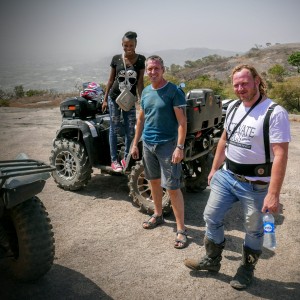 Christmas Day in Abuja starts with fixing up a few quads and then heading up to Kampala hills just north of Abuja. We passed hillside residences of local chieftains no worse than the footballers' manions in London. On the way back we stop again at Sasha's house and the plan is now forming. Argo had agreed to ride with a few bikers from Abuja to Calabar the next day, but he also needs to take one of the quads to do a few stunts at the festival. He persuaded his visiting friend to drive the truck with the quad and the Russian got me to ride his Moto Guzzi 1200.
No Description
The ride
Next morning 5:30am we meet 3 other bikes at the junction and 2 more joined in the next town – so we're 7 "powerbikes" as they call them locally to differentiate from the 125cc chinese bajaj scooters, of which there are a few millions in Nigeria. That close to equator there is no dusk no dawn, morning comes with a light switch at 6:30am and night falls like a blanket at 7:00pm. The bikes would ride at 180-200 km/h even on the African roads, but the truck will slow us down and we expect to average 120 km/h. Calabar is 700km away, so we should be there by late-afternoon save a few breaks for food, petrol and drink. Roads in Nigeria are peppered with checkpoints of any conceivable type – army, federal police, local guards, bomb squads, village customs, a random man and a stick. I'll soon find out that bikes don't adhere to any rules. They don't carry number plates and all you do when 7 bikes are blasting through the checkpoint is wave to the guys carrying the AK-47s. It gets better. After the truck got in trouble in the next checkpoint showing an Estonian license and not an international one, we quickly work out that as the truck is carrying diplomatic number plates we absolutely can't be bothered by any checkpoint. So we just drive through the next 38 of them.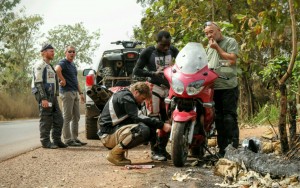 The squadron sails swimmingly down through the dry steppes for the first 400km, crossing the Niger river on the way and the nature gets greener and thicker. After the first 30km out of Abuja the freeway turns into a simple road with one lane each way and no markings. The roads are pretty smooth, just vary by the number, depth and size of potholes per 100m. About half way we end up on a road that is different – it is decent for 2-3km and then a 500m stretch, where water has removed the pavement and a big part of the base. As the lorries navigate the way through these stretches, that part of the road has gotten really wide, so you can have 10 vehicles in parallel going at their speed and optimising the route. You get through one, open the throttle, get to 180km/h and then fly into the next bit of moon surface in 2 minutes. There is no concept of traffic police and I don't think speed has ever been measured on a Nigerian road. So you go as fast as you want to. The Moto Guzzi didn't want to get beyond 180km/h for me and as my front break didn't work, I didn't much want to either. The top speeds in our group reached 280km/h that day.
The moon surface road took its toll, we had our first flat tyre. The biker called Major followed a dirt road leading to a bush where there was known to live a vulcaniser man. Major was 6'6″ and the most serious of all of us 30+ kids blasting through African roads. He was always the last rider picking up drop-offs and keeping order. Not an easy job for a group moving between 150km/h and 200km/h. Major had been fighting the Boko Haram the last time there was trouble, later in the bar he showed me his bullet wounds. Arm, back and on the top of his head. They almost defeated the insurgents that first time, but then a more relaxed government got elected and the army became "limp" as he said.
While we were waiting, I decided to head to the nearest shop to get some water. The Guzzi it didn't start. No spark, almost as if the kill switch was on. We took the bike apart looking for a bad connection or a dud fuse, but without luck. First bike down. Someone's cousin's other mother lived nearby, so we pushed the Guzzi to her compound and I continued in the truck. This stop made us realise that we had also taken a wrong turn nearly 100km back, so rather than 700km route we were now on 900km route and we had wasted 2hrs on technicals. The tyre got fixed but we knew, we won't make it before nightfall. The blanket was pulled over us 200km before the destination. That last stretch of night riding was terrible with potholes 3 meters wide and 40cm deep. After 1hr we landed in one pothole which gave us two flat tyres and the third with a damaged rim with air wizzing out. We stopped a passing truck and loaded 3 bikes on there for the last hour of a ride. Started with 7 bikes and only 3 made it through on the African roads.
No Description
Carnival
The Calabar governor is an avid biker, so he had arranged all bikers get accomodation at the Tinapa hotel. By the time we got there it was teeming with superbikes. The Tinapa Business Resort is a typical example of an African project. Built in 2006, it is complete with a water park, natural history museum, 80,000 sqm of walmart-like malls, cinama, amphitheater, conference centre, parking for 4,000 cars and a 3* hotel. In reality you drive through a setting of an apocalyptic movie – there have never been any cars parking there, the jungle is taking over the roofs of the buildings and the only thing operational is the hotel. As long as they have electricity, which they rarely do.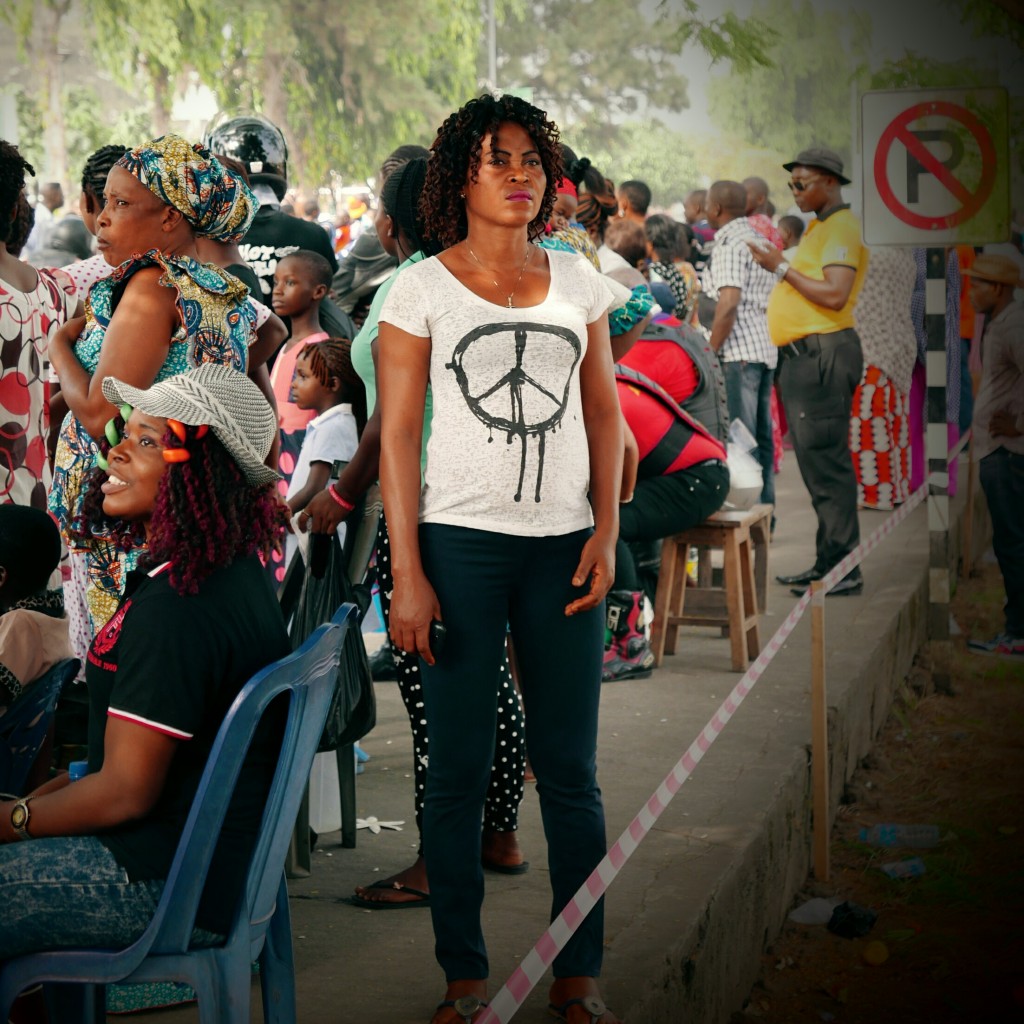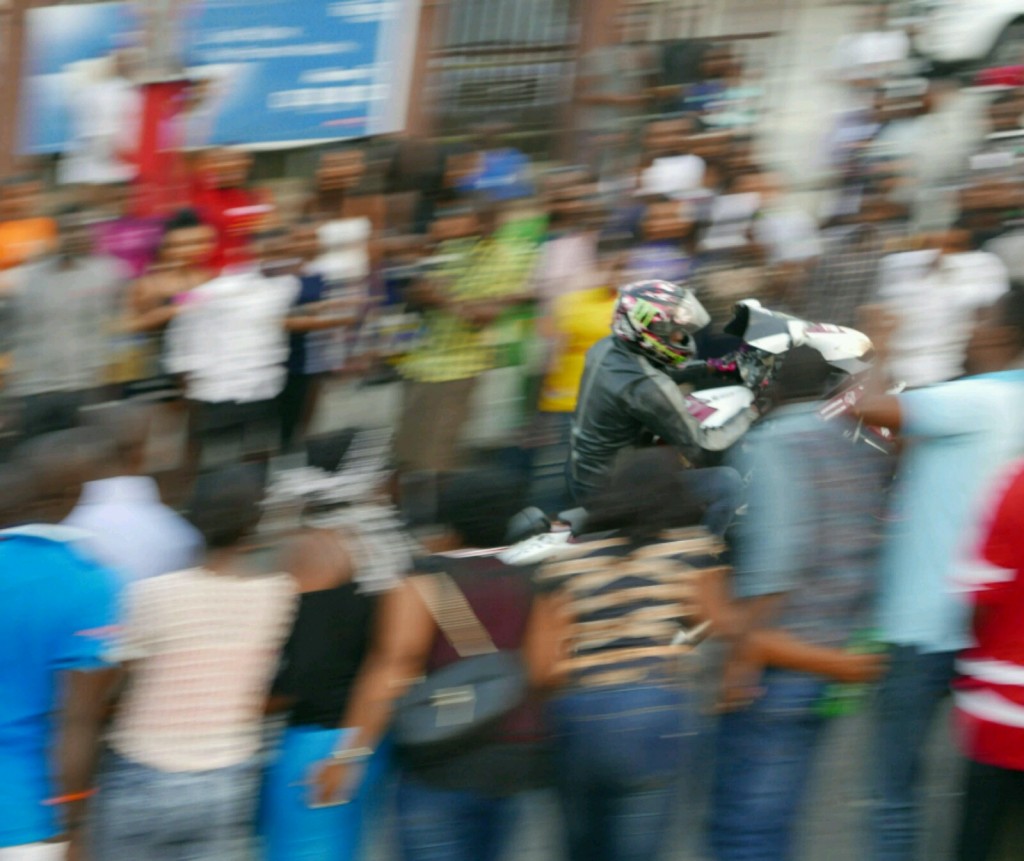 The white man pulling wheelies for entertainment of the crowds.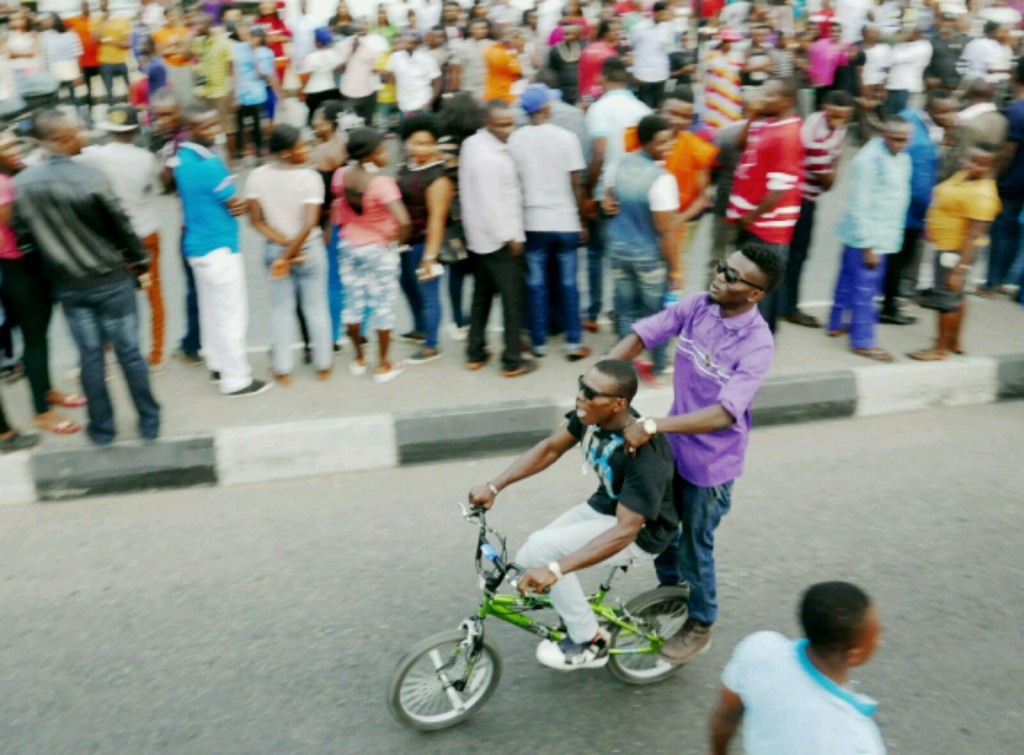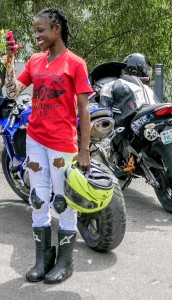 Apparently there was meant to be a kids carnival on Sunday before the real big one on Monday, but they canceled it for the bike festival. The festival was just bikes going around town on a route and really nothing special. But the crowd was immense. I thought that tour de france has a crazy turnout of spectators, but nothing compared to this festival. There were many hundred thousands lining the streets of Calabar as I drove the truck in the official convoy following the 200+ bikes on the streets. Don't think there were any Calabarians who were not there on the streets, may be only the sick, blind and deaf. It felt like in the hot people soup in the glaring sun in the midst of these thousands of people, each elbowing for a view of the bikes. Crowd control was intense, for the first time in my life I got pushed back with an AK47 to my chest to clear the road, counterweighed by the rows of people behind my back pressing forward for a view.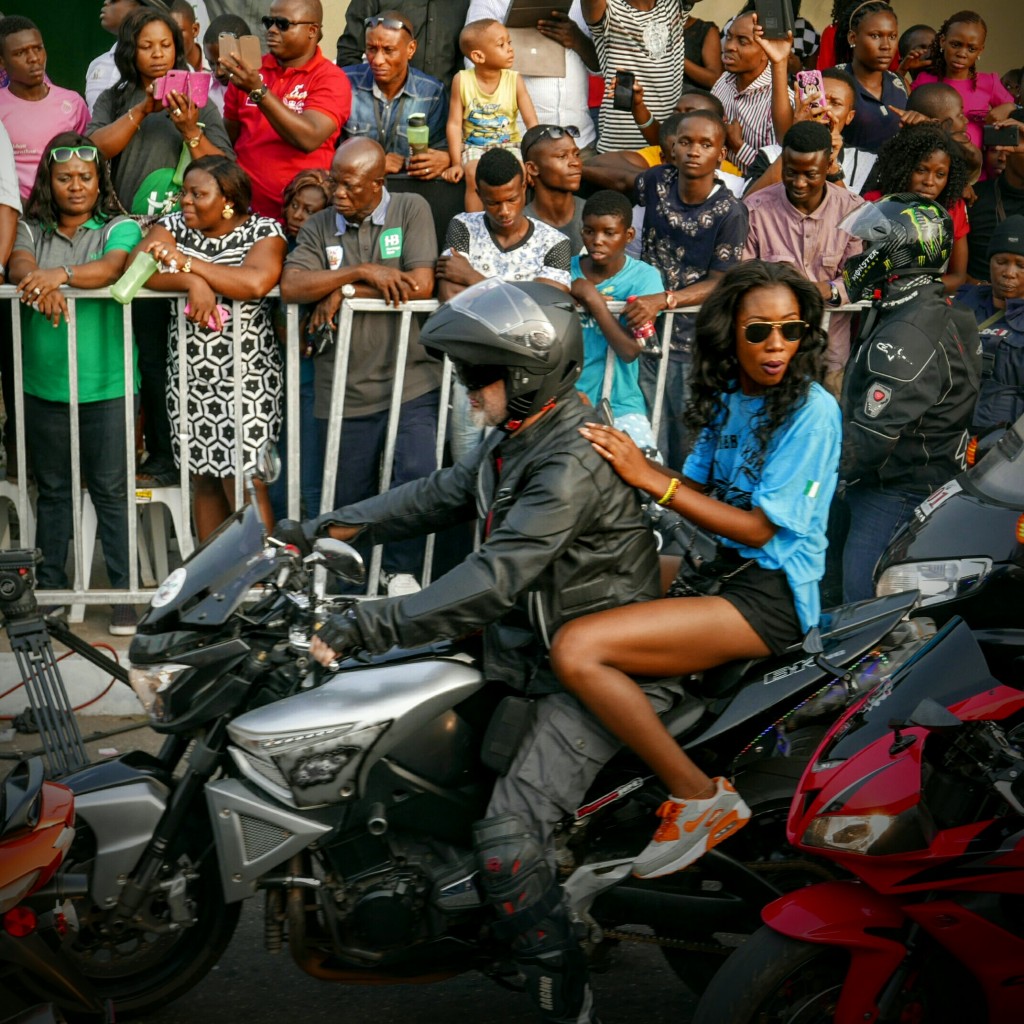 It was also very nice of the governor to supply the 200 bikers with pillion babes, who were brought in on the bus. The party later took off at the bungalows dancing around the fireplace with bbq and plenty of coca cola. African style.
On the domestic flight back to Lagos we encountered an instruction for ninjas how to use the emergency exit.